Is A Ridgeback Right For You? Or… "Playing Devil's Advocate"!!!


Before you decide to purchase a Ridgeback, please do your research! They are the most adorable puppies you can imagine - but they grow up to be BIG DOGS! While they love being couch potatoes, and many are! - they do need a good amount of exercise. They are VERY people oriented - especially towards THEIR people. They want to be INVOLVED in your life! In EVERYTHING you do! In EVERYWHERE you go! These are NOT dogs to be left outside in the yard, or locked up in a basement. They live WITH you - in your house, and in your bed, if you'll let them!!!


We put our hearts and souls into our dogs, and the last thing we want is to ever have one of our puppies end up in a shelter or worse...turned loose in the streets. As breeders, we do everything possible to ensure our puppies will have a home for life with their new owners. We guarantee the health of our puppies, and include a clause in our sales contract that states should an owner ever need to give up their dog or puppy, we must be contacted first. We will either help the owner find a new home that meets our standard or we will take the dog back.  


When our puppies leave for their new homes, they are already microchipped, with our name as the second contact. In the event a dog should ever become lost, there will be at least three different parties that can be contacted to help get the dog safely home.
Ridgebacks generally are very healthy animals and could live anywhere from 10-14 years. Prospective owners need to consider the commitment needed for lifelong companionship. There is nothing worse than hearing the stories in rescue about "the old dog who was no longer wanted" for many and various reasons! It breaks your heart and is certainly not what we want to have happen to any of our dogs.
We also recommend you visit the
RRCUS Health and Genetics website
to learn more about the general health of this breed, including the two main congenital conditions associated with the breed - ridgelessness and Dermoid Sinus.
After doing your research, and looking through this site, should you decide this is the dog for you, we would love to have you contact us. There is nothing we enjoy more than sharing our enthusiasm for this wonderful breed with others! They are such magnificent dogs, with boundless "joi de vivre", that once you're owned by a Ridgeback, you're owned for life!
Be sure and check out the sub pages - Kids 'n Dogs and Cats 'n Dogs.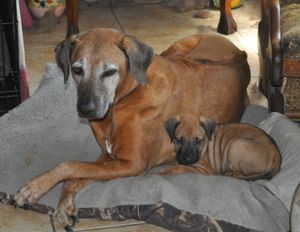 Savannah, age 13 and her grandpup!